S. R. 18 BEAUTIFICATION AND TRAIL PROJECT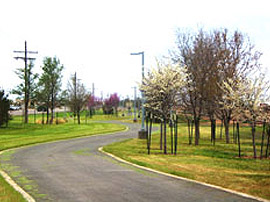 The S.R. 18 Trail serves as a link from a residential/commercial area of Hobbs to the following places: Lea County Events Center, New Mexico Junior College, Zia Park & Black Gold Casino, Lea Regional Hospital, and a path to connect to the University of the Southwest and the Rockwinds Community Links Golf Course. Located adjacent to the Lovington/Hobbs Highway, the trail welcomes travelers from surrounding areas with its beauty and provides a pleasant walking/biking environment for the locals.  The complete project provides a 6-mile trail for walking, biking, or jogging.
Pettigrew & Associates provided professional engineering and surveying services for the Beautification and Trail Project.
The scope of work included:
Complete Topographic Survey to Establish Location of Existing
Features Including Trees, Trail, Grades and Irrigation System Along
The Trail Corridor.
Field Verification of Existing Plants and Trees
Utility Coordination
Design of Horizontal Alignment and Vertical Alignment
Design of Drainage and Grading Features Along Trail
Design of Structural Section
Construction Staking