GIS Services
Our in-house GIS/ Mapping Division can provide the following services:
Database Design, Development, and Maintenance
Asset and Maintenance Management Systems (CMMS)
GPS Location and Asset Inventory and Attribution
Utility Mapping Creation and Updating
Infrastructure Mapping
Who Can Benefit from Pettigrew's GIS Services
Municipalities of Any Size  -These innovative projects include acquiring, reviewing and coordinating GIS/Mapping data from multiple sources to provide a database for current zoning districts to use for future planning, projects and asset management.
School Districts  – Bus route information (public and protected), student population distribution and inter-district boundary information are just a few services we can offer schools.
Oil & Gas – Asset management including physical locations of pipelines, wells, pump stations and tank terminals can be managed through a geodatabase that our GIS experts at Pettigrew & Associates can build.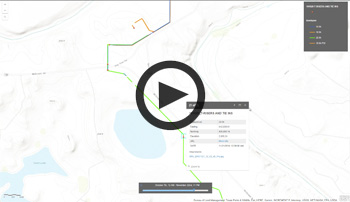 Click on the image to play the GIS mapping video.