ZIA PARK & BLACK GOLD CASINO RACE TRACK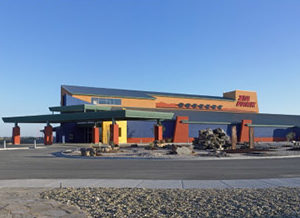 Completed in 2005, the entertainment casino and thoroughbred-racing complex design incorporated a program that includes a horseracing clubhouse, an entertainment venue, and lodging. Zia Park is one of the nation's first racetrack/casino entertainment destinations to be integrated from project commencement. Zia Partners, LLC contracted Pettigrew & Associates to provide land surveys, environmental and engineering reports for 640 acres, oversight for environmental cleanup, design, and construction management services. As the Civil Engineer, Pettigrew & Associates, provided site grading and drainage, utility design, roadway and parking facilities, and offsite utility extension design.
Construction Management Services included preparation of the Storm Water Pollution Prevention Plan, quality assurance testing, construction inspection (including structural steel and fireproofing), and construction staking for the 312-acre site. Additionally, Pettigrew & Associates provided civil design services, construction management services and Right of Way services for approximately 2,560 linear feet of 12" water main and 2,560 linear feet of 12" sewer main along the south boundary of Millen Drive to tie into the City of Hobbs utility mains.
Specific tasks included:
• Aerial and Land Surveys
• Right of Way Surveys
• Preparation of Plats and Legal Descriptions
• Geotechnical Investigation and Pavement Design
• Phase I and II Environmental Site Assessment
• Drainage Facility Plan
• Traffic Impact Analysis