NEW MEXICO JUNIOR COLLEGE ON-CALL PROFESSIONAL ENGINEERING AND SURVEYING SERVICES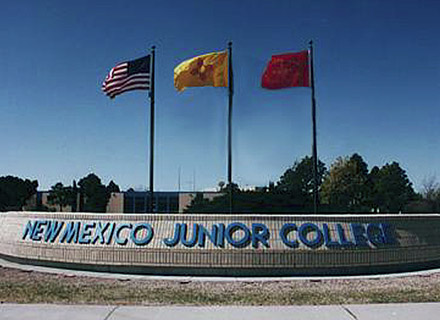 Pettigrew & Associates, P.A. provides New Mexico Junior College with comprehensive civil engineering, surveying, and materials engineering and testing on an as needed basis. Services include preliminary studies and surveys, land and construction surveys, environmental site assessments, geotechnical investigations, civil design, and construction management, including construction inspection, concrete and asphalt mix design review, construction quality control, and construction materials testing.
Examples of projects are listed below.
Design of Left Turn Lane, Acceleration and Deceleration lanes along NM 18
Re-design of Circle Drive and Entrance to accommodate two-way trac, resurfacing of the Circle Drive, redesign of existing speed bumps for multi-purpose as walkways, and obliteration of the existing entrance from NM 18
Design of the Baseball Concession Stand
Boundary Survey and Phase I Environmental Site Assessment for Lots 23-24, Block 36 of Original Hobbs Addition
Irrigation Study
Water Rights Survey and Application Submittal
Design of New Concession Stand with Restrooms
Design of Acceleration/Deceleration Lanes for the westbound trac on West Millen Drive, Construction of New South Entrance to NMJC, and Construction of Additional Parking Facilities
Master Plan and Trac Study
Geotechnical Investigations for Student Apartments, Ben Alexander Student Learning Center, Bob Moran Technology Building, Western Heritage Museum Complex, Communications Tower, Pannell Library, Oil Field Training Center, Workforce Training Center, Dormitories
Civil Site Design – Bob Moran Building, Automotive Training Center, Western Heritage Museum, Workforce Training Center, Student Apartments Phase I and II, Central Plant
Location:
Hobbs, New Mexico
Owner:
New Mexico Junior College
Contact:
Dr. Steve McCleery
575.392.4510
Dates of Service:
1986 to Present