HOBBS MUNICIPALS SCHOOL FRESHMAN ACADEMY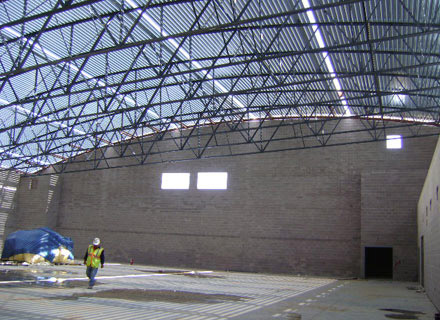 This was the first project for Hobbs Municipal Schools in which bidders for the project were selected through an evaluation process that relied heavily on the qualifications of each applicant. The 122,000-square-foot school is expected to be built in 13 months at a cost of $164 per square foot.
The project is being built in three phases, the central kitchen, the school proper and finally the gymnasium. Completion is scheduled for February 2011.
Pettigrew & Associates is providing Field Observation and Construction Materials Testing for Quality Control. Field observation includes Cast Concrete Piers, Masonry, Structural Steel (including joists, beams, columns and metal deck), as well as Cold Form Metal Framing – Lateral Resistance System.
Construction Materials Testing includes soils, aggregate, asphalt, concrete and masonry.
Our professional staff is also providing Construction Survey Staking of civil works for the project.