BOYS AND GIRLS CLUB OF HOBBS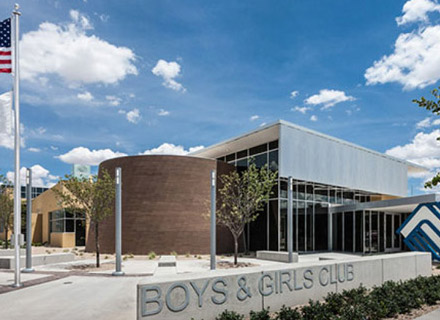 After 46 years offering after-school programs to local children, hosting thousands of elementary basketball games and providing a safe, healthy and active environment for children during their summer breaks, the Hobbs Boys and Girls Club construted a brand new facility. The 28,000 sq. ft. building and additional outdoor recreational areas encompasses the entire 300 block of East Broadway, just across the street from the Boys and Girls Club's previous location.
The new facility features two regulation-sized indoor basketball courts, large indoor and outdoor commons areas, commercial kitchen and eating area, an activity area with fitness equipment, an art classroom, a theatre room, foosball, ping pong and air hockey playing area, two large multi-purpose rooms and offices for the staff. The club will also feature an outdoor recreation area with eight basketball goals, an outdoor football/soccer field, a playground with accompanying equipment and a walking/jogging path.
The project is a design/build contract.
Pettigrew & Associates provided multiple civil engineering design, survey and geotechnical services throughout the project's entirety, including the demolition of an existing Zia Gas Building located on the new site.
Services provided include the following:
Geotechnical Investigations
Utility Coordination and Relocation Services
Boundary and Topographic Surveys
Horizontal Control Plans for Construction
Site Grading and Drainage Plan
Permits, Entitlements and Approvals
Site Demolition Plan
Site Improvement Plan
Site Paving Plan, Site Utility Plan
Storm Water Pollution Prevention Plan & Erosion Control
Construction Administration
Location:
Hobbs, NM
Owner:
Boys and Girls Club of Hobbs
Contractor:
HB Construction
Contact:
Mike Clampitt
Construction Cost
$10 Million
Completion Date
June 2015