CITY OF EUNICE WASTE WATER TREATMENT PLANT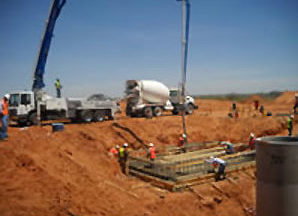 Pettigrew & Associates provided construction materials testing, construction survey control, layout and as-built services for the construction of the Eunice Wastewater Treatment facilities. Additional services include: ready mix plant and truck inspections.
Molzen- Corbin – Municipal Streets
Through a working agreement with Molzen-Corbin and the City of Eunice, Pettigrew & Associates has provided Professional Design Engineering and Professional Surveying services for a variety of streets, water, and sewer main extension projects. The services covered include topographic survey, right of way survey, street and utility design, construction layout, inspection, and materials testing for quality control.