BROADMOOR ELEMENTARY SCHOOL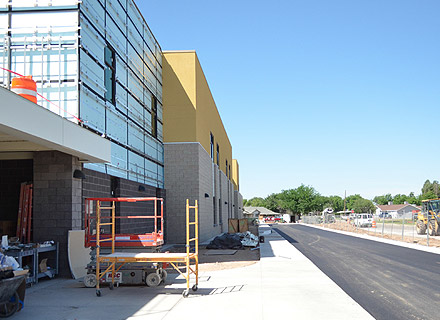 Hobbs Municipal Schools determined the current Broadmoor Elementary, originally built in the 1940's and expanded twice with both permanent and temporary additions, was no longer able to meet the needs of the growing district. The decision was made to construct a new, two-story, 400-student school on the current campus, then remove the old building and facilities at completion.
The new site plan for Broadmoor includes a new 53,993 sq. ft, two-story building constructed with the main entrance facing North Houston Street. An additional entrance faces East Yeso Drive where a new parent drop-off and pick-up zone was constructed. The playground is located where the school previously stood.
The project delivery system for Broadmoor Elementary is CMAR (Construction Management at Risk) and was procured through CES (Cooperative Educational Services).
Pettigrew & Associates services for the project include geotechnical investigation, civil design, surveying and construction services for the project.
Pettigrew's full suite of design services included the following:
Permits, Entitlements and Approvals
Site Demolition Plan
Site Improvement Plan
Horizontal Control Plans for Construction
Topographic Survey for Design
Site Grading and Drainage Plan
Site Paving Plan, Site Utility Plan
Pollution Prevention Including Erosion Control Measures
Storm Water Pollution Prevention Plan
Construction Administration
Location:
Hobbs, NM
Owner:
Hobbs Municipal Schools
Contractor:
Bradbury Stamm
Architect:
Dekker/Perich/Sabatini
Contact:
Gene Strickland
575-433-0100
Construction Cost:
$10 Million
Completion Date:
2015