NMJC AUTOMOTIVE TRAINING CENTER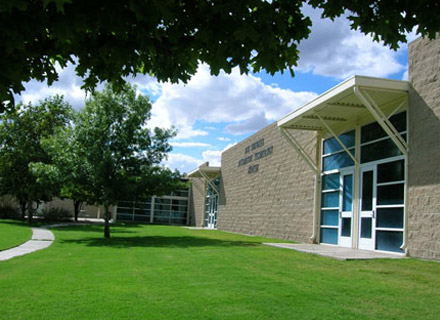 This project is a 40,000 SF addition to the existing Vocational Technical Building. This facility is designed to help accommodate the growing program in Automotive Technology at the New Mexico Junior College. The program is funded in part by the Big Three auto makers to provide qualified technicians to their dealerships.
The addition includes state-of-the-art automotive training bays that also provide for vehicles to enter the classrooms for demonstrations. The facility also includes a paint shop and tooling shop for all aspects of automotive technology.
The building also provides offices and a learning resource center for the Vocational-Technical Department.
The addition is designed as a stand-alone building that is joined to the existing building by a clerestoried corridor that runs the entire length of the building. Two lobbies are created at either end of this corridor. The first is primarily a student lobby that orients toward the center of campus. The second lobby is oriented toward the loop road around the campus.
Pettigrew & Associates provided professional engineering and surveying services for site work and utilities within the campus tunnel.
Specific tasks included:
Topographic Surveys for Design
Geotechnical Investigation
Civil Design
Construction Administration and Engineering
Construction Materials Testing
Construction Staking