HOMESTEAD ESTATES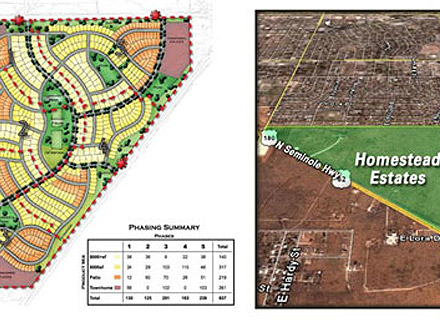 The proposed Homestead Estates in Hobbs, NM comprises 258 acres with a spread of 937 lots between Bender Boulevard and the Seminole Highway. The lots are designed to support single and multi-family homes. Pettigrew & associates was contracted to provide boundary and topographic surveying and other preliminary design services. The project involved preparation of lots for building of affordably priced homes.
Specific tasks included:
Boundary and Topographic Survey

Restoration and/or establishment of monumentation

Traffic Impact Analysis

Analysis of existing conditions, future traffic analysis, and traffic signal warrant analysis.

Drainage Study/Preliminary Design

Identification of all drainage patterns
Detailed hydrologic analysis to identify all existing drainage patterns and storm drain systems and to determine the magnitude of the run-off flow rates for the appropriate design frequencies
Detailed hydraulic design of all required drainage features.
Drainage Report incorporating all finding, including:

Inventory of existing drainage structures/systems
Detailed structure recommendations including drainage areas, design discharges, and head water depths.

Preliminary Utility Analysis

Analysis of existing sewer and water capacity, determination of site demands, coordination with City of Hobbs Utilities Department, and determination of other utilities necessary for the site.