FLYING J TRAVEL CENTER PILOT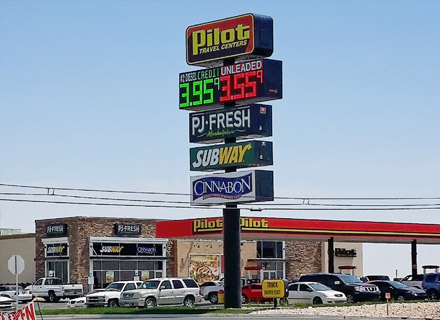 Pettigrew & Associates provided a variety of services to the Pilot Flying J Travel center including surveying, engineering, permitting, landscape architecture, construction materials testing, geotechnical engineering, construction staking, off-site utilities and street design, and traffic impact analysis.
As the engineer for the site, Pettigrew & Associates specific work included permitting and design of new 10-inch water and sewer lines, utility design, drainage analysis, Storm Water Pollution Prevention Plan, grading and paving plans, erosion control and pollution plan. In addition, Pettigrew & Associates also provided continuous on-site construction administration for the project.
The 7.3 acre site was a completely undeveloped area located at the northwest corner of the Carlsbad Highway and Goings Road in Hobbs, NM. The travel center has gasoline and diesel fueling areas for personal and commercial vehicles, however, it is specifically tailored to the long-haul driver. It includes a traffic center, Subway restaurant, a Cinnabon and PJ Fresh, truck and car canopies, forty parking spaces, truck scale and a truck wash, showers, a laundry facility and a resting area.
The facility opened for business in May of 2014.