BOWMAN ESTATES ARTESIA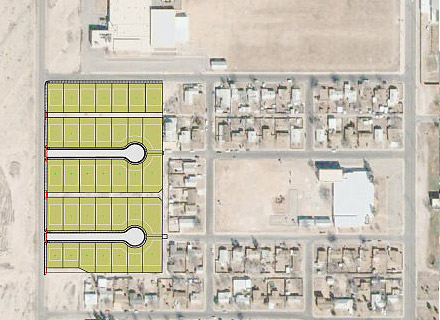 Bowman Estates is located adjacent to Bowman Drive in Artesia, NM.  The 8.5 +/- acre subdivision has thirty five (35) lots for development of single residence homes or townhomes. The layout of Bowman Estates consists of two (2) new roadways extending east from Bowman Drive to cul-de-sacs on the east end of the property. Twenty (20) feet alleys will be provide utility access to the rear of each lot.  Cul-de-sacs were incorporated into the design to limit the through traffic on Champ Clark Ave. and Lolita Ave. and reduce speed and traffic volume through the Yucca Elementary School area. The cul-de-sacs offer great opportunity to incorporate townhomes into the larger lots thereby providing diverse housing opportunities to Artesia.
Land planning for this project was completed in accordance with the 2004 Update Artesia Comprehensive Plan. Approval of the subdivision required Pettigrew & Associates to obtain a zone change as well as amendments to the subdivision regulations.
The scope of work included:
Topographic survey for 8.5 +/- acre site
Annexation into the City of Artesia
Petition for Zone Change/Amendment to Subdivision Regulations
Preparation of Subdivision Plat Submittals for Steps I, II and II for the City of Artesia for residential subdivision
Civil Site Design for the single family residential in accordance with Artesia Public Works Specifications
NMDOT Driveway Permit
Storm Water Pollution Prevention Plan (SWPPP)
Construction Staking
Construction Materials Testing
Project Closeout and Monumentation