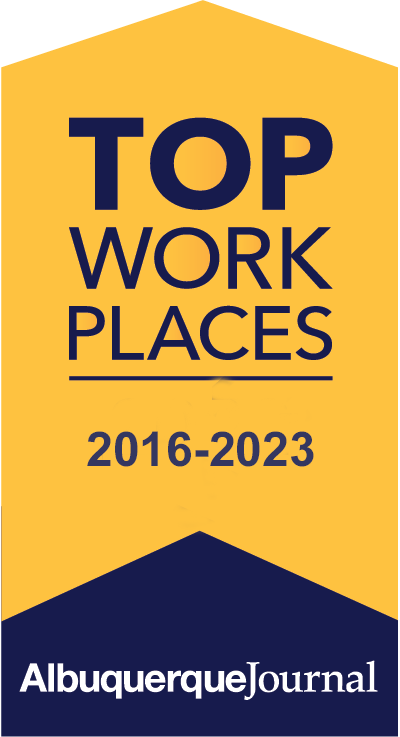 Hobbs, NM- Monday, June 26, 2023 – Pettigrew & Associates has been awarded a Top Workplaces 2023 honor by Albuquerque Journal Top Workplaces. The firm is the No. 3 small company in Top Workplaces 2023.
The list is based solely on employee feedback gathered through a third-party survey administered by employee engagement technology partner Energage LLC. The confidential survey uniquely measures 15 culture drivers that are critical to the success of any organization; including alignment, execution, and connection, just to name a few.
"Earning a Top Workplaces award is a badge of honor for companies, especially because it comes authentically from their employees," said Eric Rubino, Energage CEO. "That's something to be proud of. In today's market, leaders must ensure they're allowing employees to have a voice and be heard. That's paramount. Top Workplaces do this, and it pays dividends."
"At Pettigrew & Associates we know it is only with the dedication of our people that we are able to improve lives and communities." said President & CEO Debra P. Hicks PE/LSI. "We believe if you treat employees like they make a difference, they will.  We are thrilled to be recognized as a Top Workplace."
About
Pettigrew & Associates, a woman-owned small business established in 1965, is a full service civil and geotechnical engineering, surveying, GIS and construction services firm located in southeastern New Mexico. Our qualified regional firm of over 50 employees serves New Mexico, Texas, Arizona, Oklahoma, Colorado, Kansas and Utah. Not only does our firm provide quality professional services to a wide array of large and small clients, we provide services to 90% of those clients AGAIN and AGAIN. Our clients continually choose Pettigrew & Associates because our firm has proven for over half a century that our technical competence, cutting-edge technological standards, adherence to budgets and unparalleled integrity set us apart from other firms.