CARLSBAD MUNICIPAL SCHOOLS SPORTS COMPLEX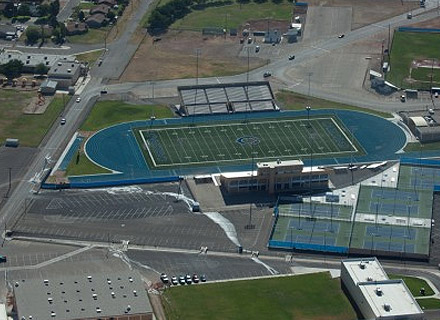 The vision of this initiative was to design and construct a "state of the art" sports complex for the youth of Carlsbad, New Mexico. The centrally located complex provides a safe, secure facility, housing softball, baseball, soccer and football fields, which greatly compliments the communities strong support and participation in organized youth sports. These fields are utilized year round for youth recreation league play, tournaments and other special events. Each area is equipped with large concession facilities and restrooms. Central parking accommodates multiple, simultaneous events.
Carlsbad Municipal Schools contracted with Pettigrew & Associates to provide complex drainage design, site investigation, and base map preparation for the Sports Complex.
The project involved preparation of a digital topographic base map for construction document preparation, which included on-the-ground surveys, preparation of contour maps, identification of flowline and invert elevations of existing drainage facilities and Construction Documents Preparation providing grading plans and designs of new drainage structures including drop inlets, slotted drains, storm water piping, drainage basins, detention basins, and outlet structures.